This post and photos may contain Amazon or other affiliate links. If you purchase something through any link, I may receive a small commission at no extra charge to you. Any supplies used may be given to me free of charge, however, all projects and opinions are my own.
Do you love things made from waste material? If using up all of those scraps makes you giddy, we have you covered! I am crafting with all of those small scrap vinyl and iron-on pieces today. Even the REALLY small ones can be used to create something amazing. So, gather up all of those bits hidden in your drawer and make one of these 5 projects. After all, crafting for less money is basically the best part of crafting.
Want even more ideas? Try these Cricut project ideas using what you already have around your home.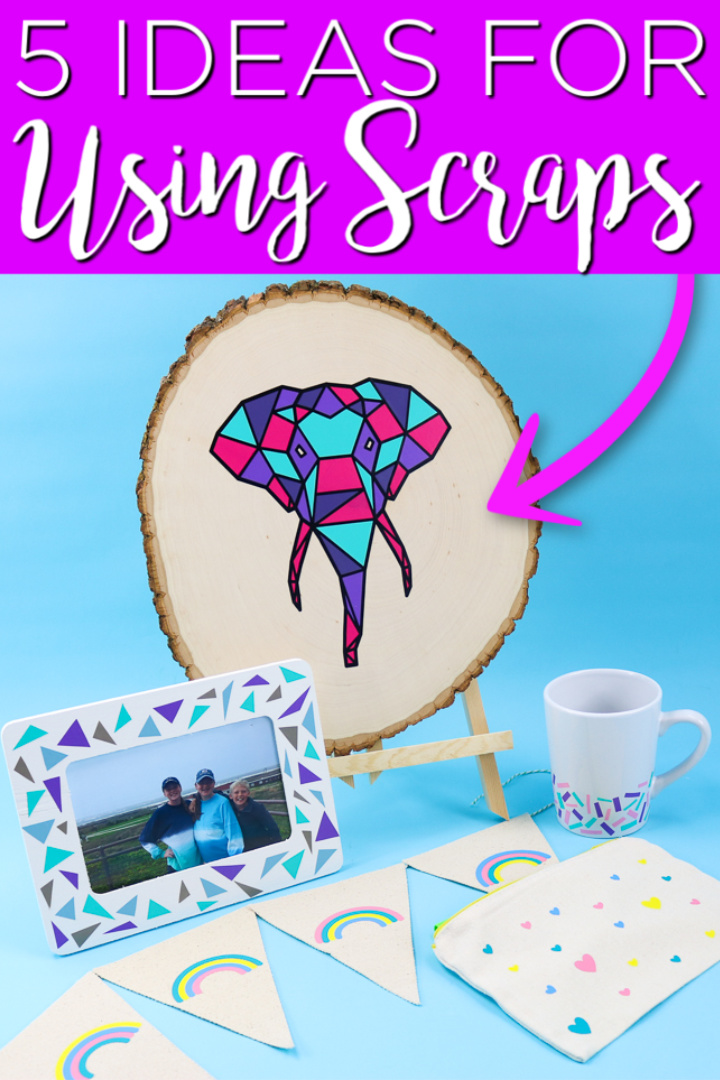 Things Made From Waste Material
First, if you want to see all of the Cricut ideas in one place, you can just watch the video below. I am making all five of these scrap busting projects.
Can't watch the video or want to see more? You can also follow along with the projects below. I am also including a table of contents in case you want to skip to any of the projects easily.
Table of Contents
Scrap Vinyl Craft Ideas
First, I will share three ideas for scrap vinyl. Now, these can also be used for scrap iron-on but I am using my vinyl stash for these three. Hopefully, these will help you think outside of the box when it comes to things made from waste material.
Terrazzo Inspired Frame Idea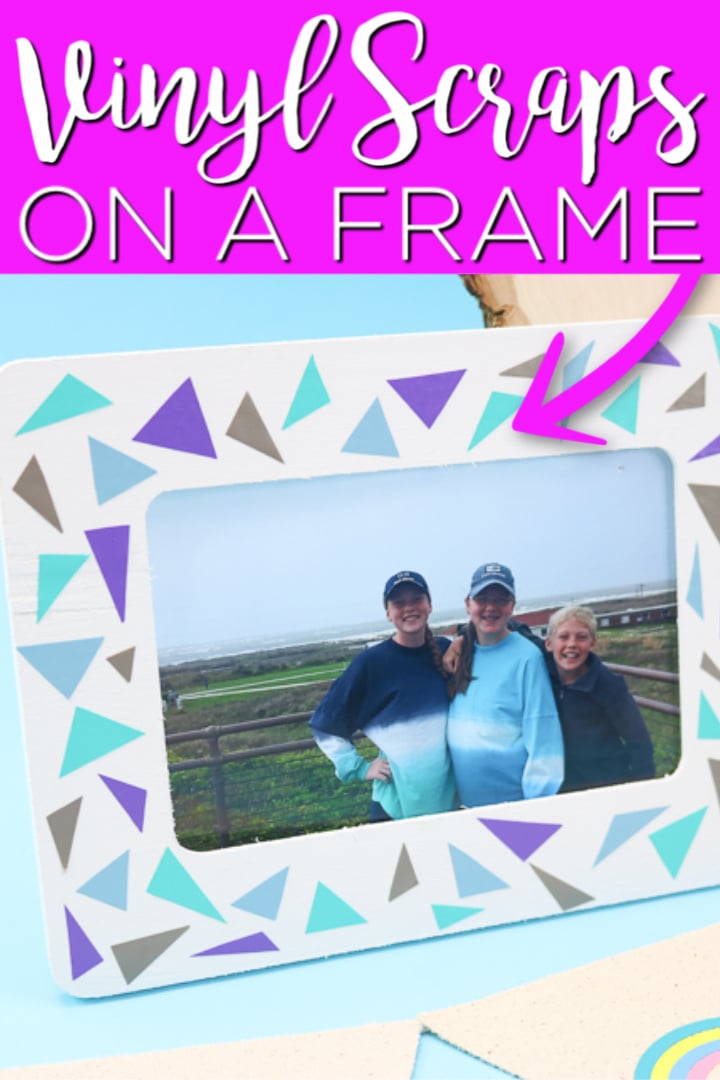 Cut random triangles from scrap vinyl and add to any surface. Here we are using them to make a picture frame but this same idea can be used on a wide variety of surfaces.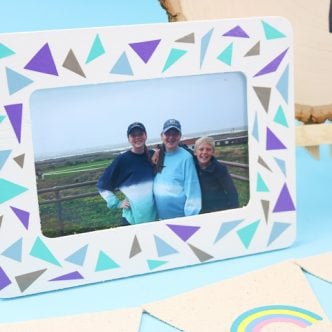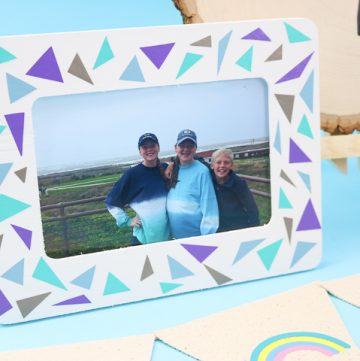 Scrap Vinyl Picture Frame
Make a terrazzo inspired picture frame with small triangles of scrap adhesive vinyl.
Print Pin Rate
30 minutes
Total Time: 30 minutes
Servings: 1 frame
Author: Angie Holden
Supplies
Wood picture frame

Adhesive vinyl

any scrap pieces that you have

Scissors

Paint

Paintbrush
You have just completed the first of our ideas for things made from waste material. That one was so easy! I have another project that is just as easy that you are going to love.
BACK TO THE TOP
Sprinkles Coffee Mug Idea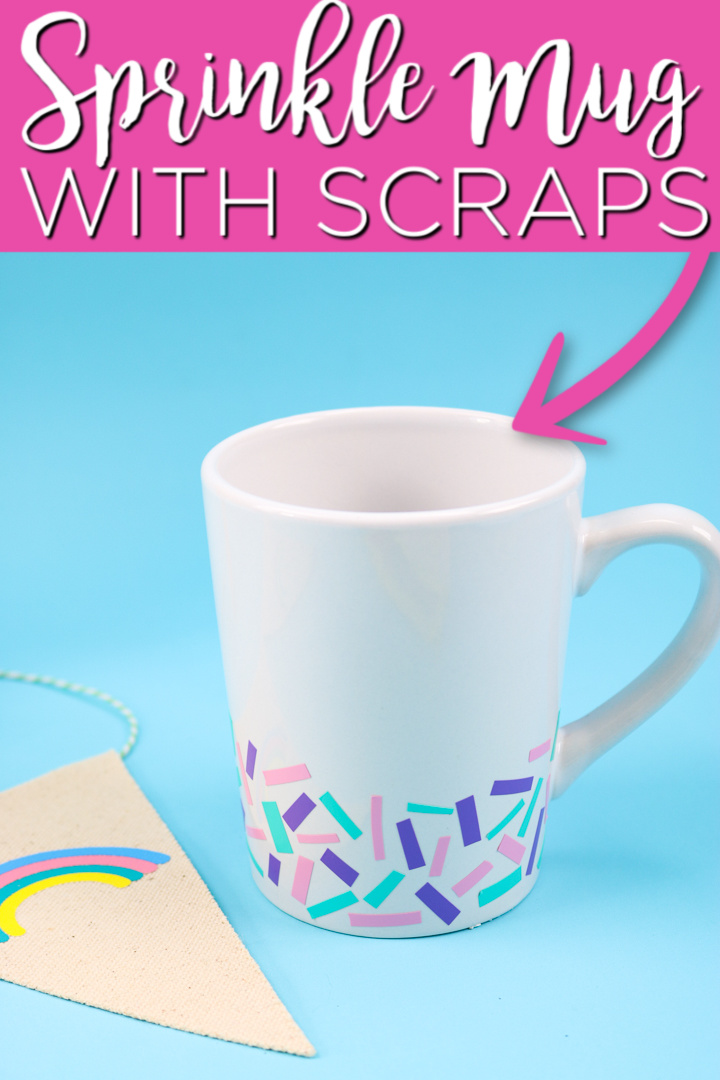 Those super small scraps can be made into confetti in seconds and then used to decorate a coffee mug or just about any other surface you can dream up. Does your life need more sprinkles? Then be sure to save those scraps.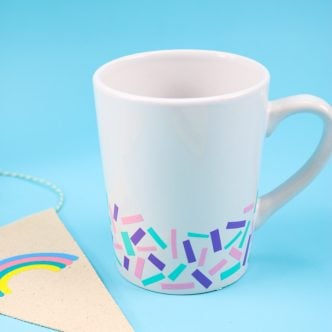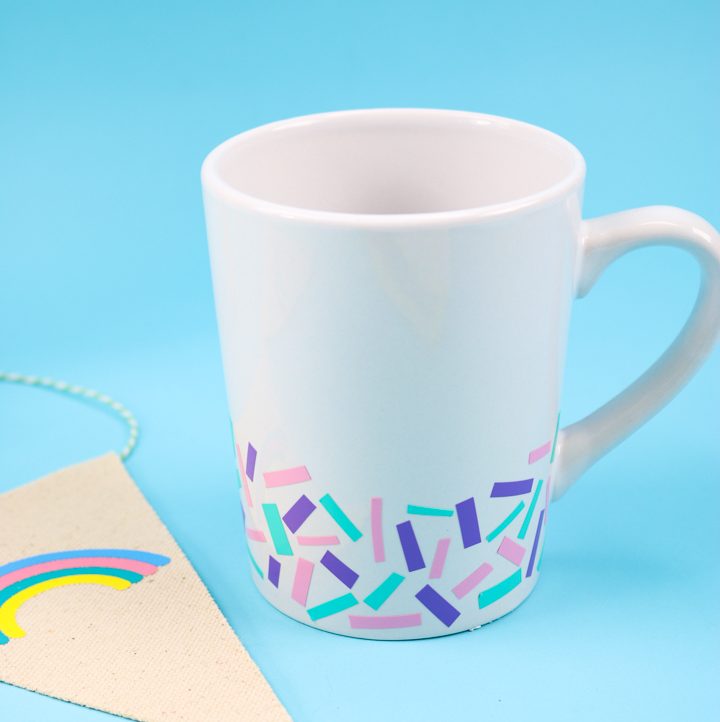 Sprinkles Coffee Mug
Add sprinkles or confetti to any surface with the scraps you have around your home.
Print Pin Rate
10 minutes
Total Time: 10 minutes
Servings: 1 mug
Author: Angie Holden
Now that I have shown you two super simple projects to make with vinyl scraps, I thought I would share a more complicated one as well.
BACK TO THE TOP
Scrap Vinyl Geometric Elephant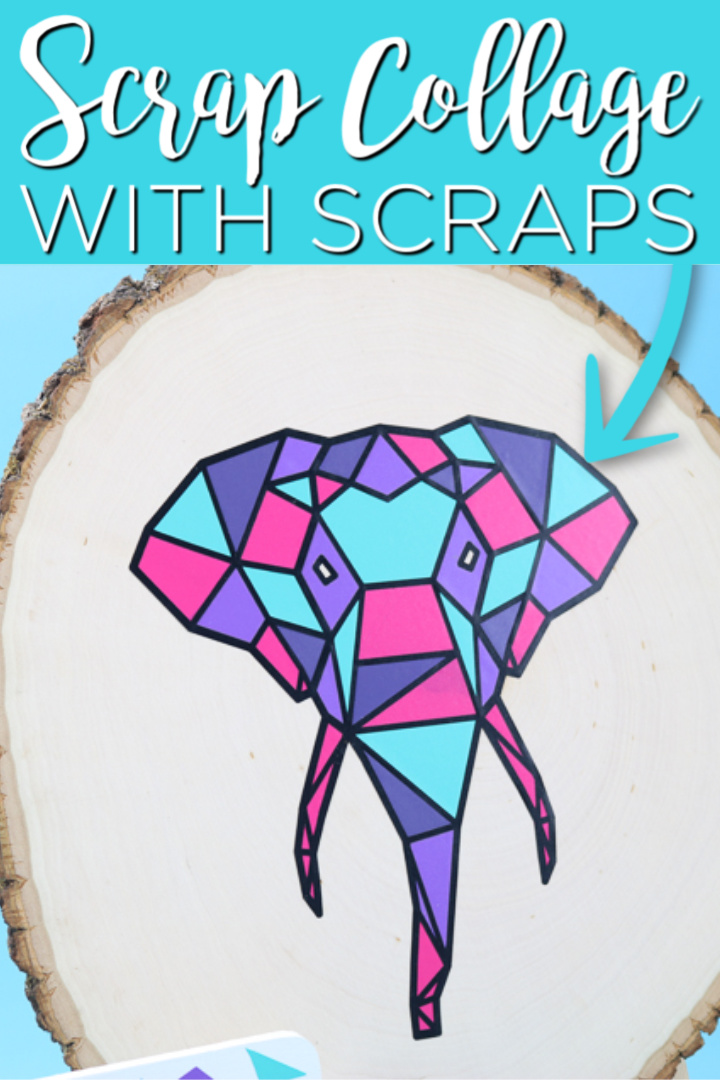 This one is stunning when you get done but it will take more time than the previous two Cricut ideas above. Save all of your scraps and turn them into some geometric art with an elephant head shape or let your imagination lead you to a design you love. Yes, things made from waste material can be this stunning!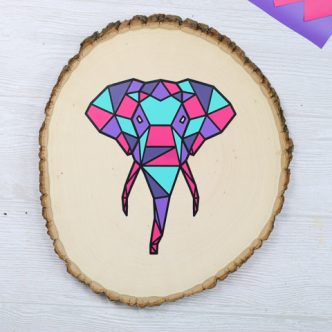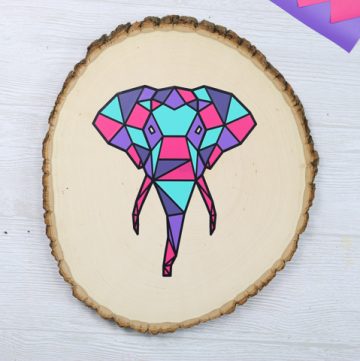 Vinyl Geometric Art
Scraps are the perfect thing to fill in this geometric elephant art.
Print Pin Rate
1 hour 30 minutes
Total Time: 1 hour 30 minutes
Servings: 1
Author: Angie Holden
Tools
Cricut machine

Weeding tools

Scissors

BrightPad (optional)

Pencil

Scraper
This is one of those stunning projects that may take some time to make but it is so worth it in the end. Now, I have used vinyl with all of these things made from waste material but you can use iron-on as well. That last project, you will have to iron on each of those pieces individually but the results will be amazing.
BACK TO THE TOP
Scrap Iron-On Craft Ideas
Ready for two more ideas using Cricut scraps? This time I am using scrap iron-on for two projects you are going to love.
Heart Zipper Pouch and Rainbow Banner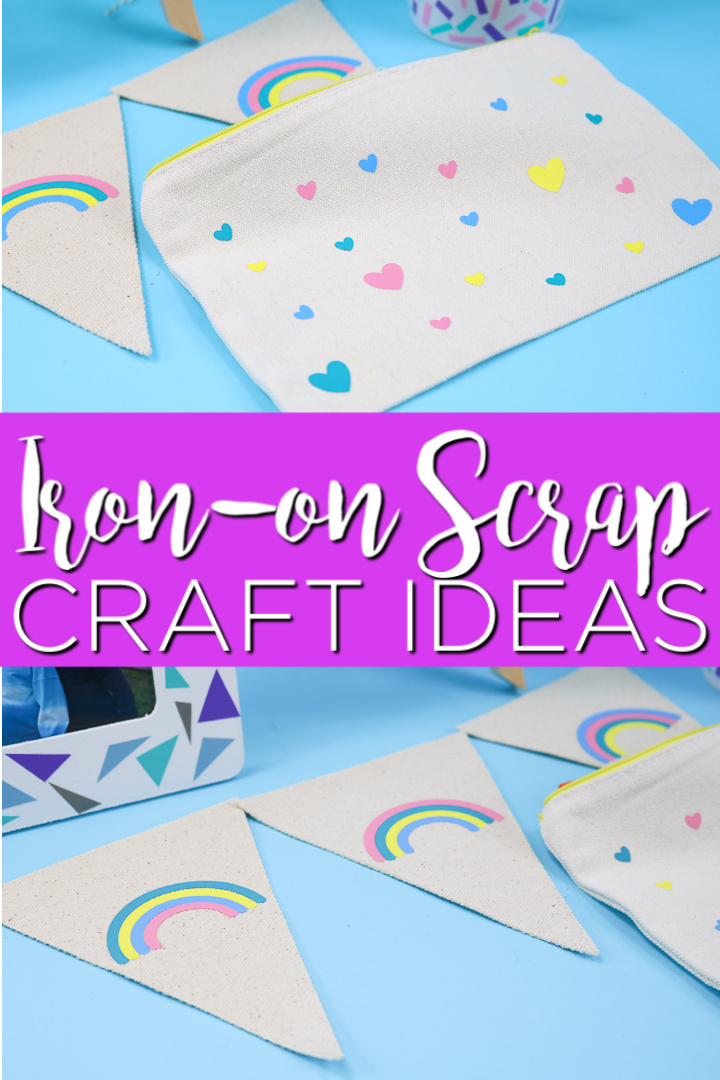 I am actually going to use my Cricut machine to cut the iron-on for both projects at once so we can chat a little about nesting and using small scraps to create projects with rainbows, hearts, circles, hexagons, and so much more.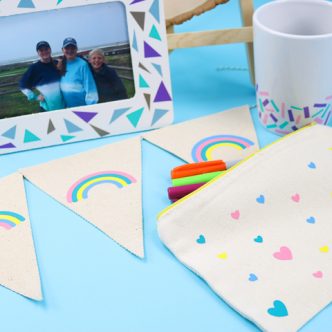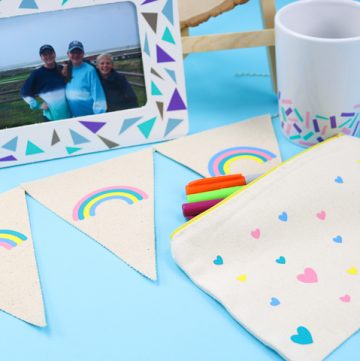 Heart Zipper Pouch and Rainbow Banner
Use those scrap pieces to cut as many shapes as possible with our ideas for nesting your Cricut cuts.
Print Pin Rate
30 minutes
Total Time: 30 minutes
Author: Angie Holden
Tools
Cricut machine

Cricut EasyPress

EasyPress mat

Weeding tools

Scissors

Hot Glue and a Glue Gun
Instructions
My top things to cut from small scraps are rainbows and then various shapes like hearts, circles, hexagons, and more. All of these easily nest in Cricut Design Space and you can cut them while you are cutting your project. Then just throw the random shapes in a zip topped bag to use however you want. Rainbows are great because they nest well and you can do non-traditional colors as well. For instance, in the pieces shown, I was able to nest four various rainbows and 5 hearts on each tiny scrap piece.

You can use the cut file here to cut the same designs. You will need to move the pieces once you hit "make it" to nest the way I have shown. If you didn't know, you can move the pieces on the mat before cutting. You can also use SnapMat for locating cuts when working with multiple scrap pieces. Be sure to mirror your cut and place the shiny side down on the mat for iron-on. Then weed away all excess material.

Then cut the carrier sheet so you have individual pieces and place them on your projects. I am randomly adding the hearts to the pouch. For the rainbows, I made each of them in a different order to optimize my material as I was dealing with small scraps.

You can then start pressing your designs. I did the zipper pouch with the hearts first. Be sure to look up the time and temperature for the iron-on you are using on the Cricut Heat Guide. Then you can follow our guide here for the application.

Once you press and allow to cool, remove the carrier sheets from each heart to complete your zipper pouch.

The rainbow is a bit more complicated as the various colors touch. You will need to press each one separately. I find that starting with the largest is the best.

Just press each of the layers from the front for the recommended time, allow to cool and remove the carrier sheet. Add the next layer and cover BOTH layers with carrier sheets before repeating the pressing process. You want to repeat this for all of the rainbow layers. Once you have them all in place, remove all of the carrier sheets and turn over to press from the back.

Repeat the same process for as many flags as you want in your banner.

Turn over the flags and attach each to twine using a bit of hot glue at the top.

Then your banner is complete and ready for your home's decor.
So, use these things made from waste material to use up those vinyl and iron-on scraps you might have around your craft room. You will be so happy to have made something useful out of even the smallest of pieces.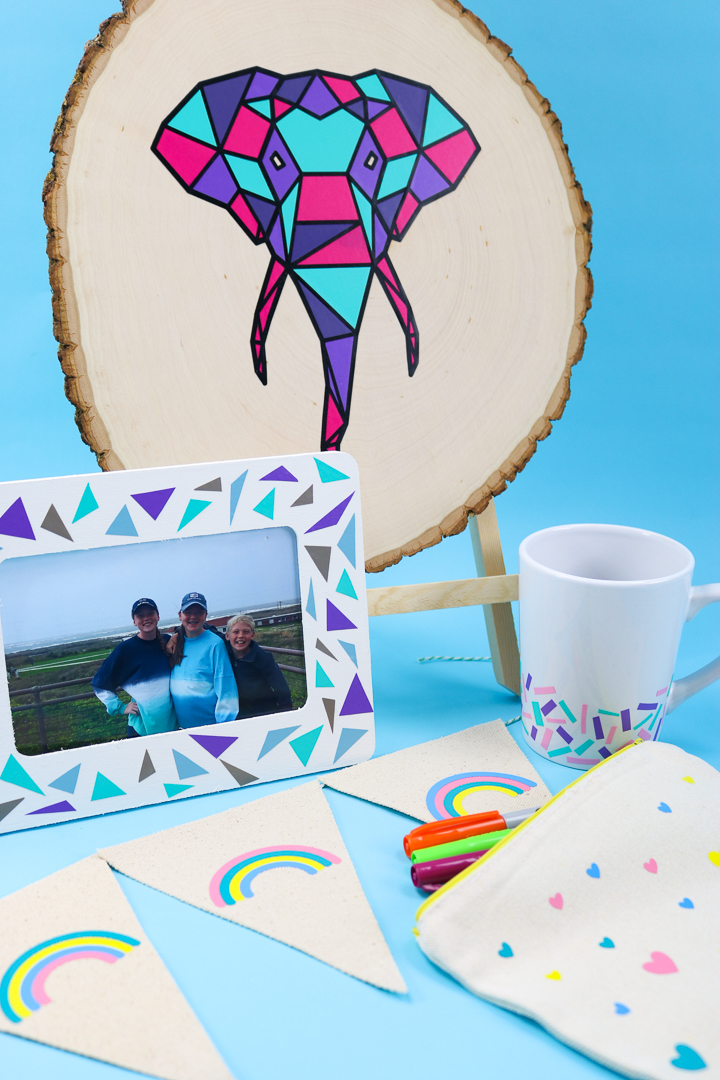 I hope these ideas will inspire you to keep all of your scraps and use them in creative ways. You can do so much with those small pieces that you might be throwing away today.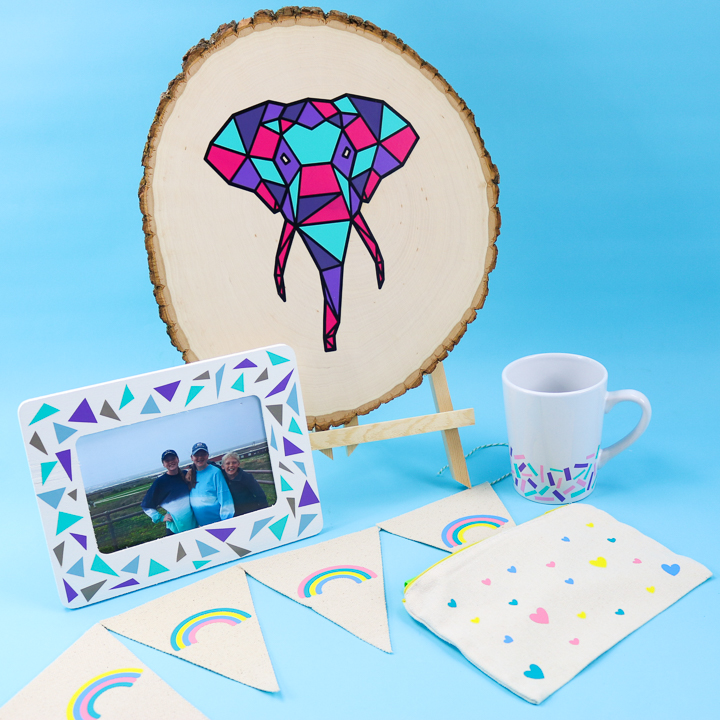 So, keep a scrap bin and get creative with those small pieces. I know that you can make these things made from waste material for your home or to give as gifts.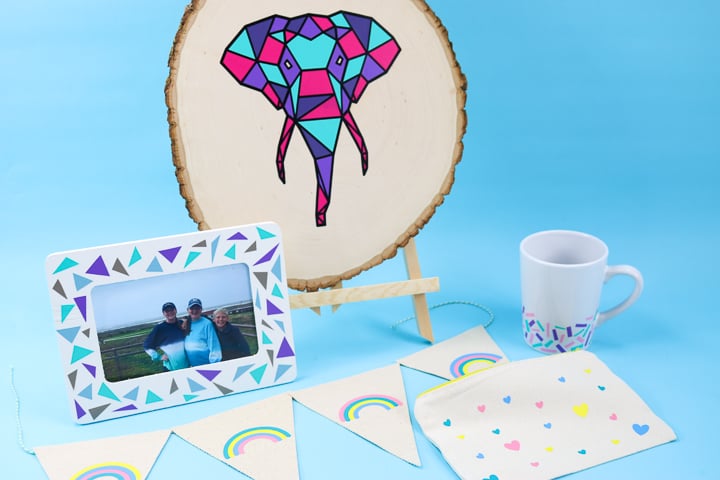 Love these things made from waste material and want more ideas? Try the links below as well!
[ad_2]

Source link